Get GrooveFunnels For Life While It Is Still In Beta For Free.

Beat Back Boredom
Alone with your family for endless miles and hours while hanging out together in the close quarters of an RV. Does that scenario sound like a dream or a nightmare? If you chose the latter, you might just need to put some more time, effort, and planning into RVing, a lifestyle that requires careful preparation. Anything less, and you could find yourself trapped in high-stress, low-square-footage situation, bored out of your mind and crammed into an RV that feels more like a cell on wheels. If you take the right steps, however, you can do a whole lot more than just maintain your sanity and keep from going stir crazy on long journeys — you can live the dream of the RV lifestyle.
Prepare by Mapping Stops
Long hours on the road do not have to try your nerves and test your sanity. In fact, the road itself is an opportunity for adventure. "The thought of being cooped up in an RV for an extended time might sound like something that would cause you to go a little stir crazy, but in actuality, it gives you tons of freedom," says Megan Buemi, senior manager of customer experience for the RV rental marketplace RVshare. 
"If you're covering a lot of miles between destinations, be sure to plan fun stops along the way," Buemi says. "This is the perfect opportunity to check out random roadside attractions, but also places you may have always wished to see, such as national landmarks or museums. Be sure to plan out your route ahead of time and map out a few interesting stops along the way."
Related: 77 Attractions to See While Driving Across the Country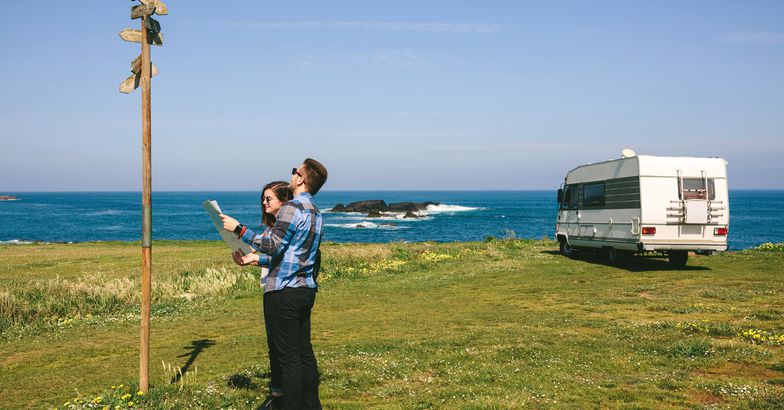 Be Spontaneous
Pre-planning must-see hot spots along the way is a great way to break through boredom and give everyone something to anticipate. It's also, however, a great idea to ad-lib and take opportunities as they come.
"Get out and do things," says Kelly Beasley, co-founder of RV education and product review site Camp Addict. "There should be hikes, attractions, towns, and more nearby unless you're in the middle of the Midwest. Even then, get on TripAdvisor and find places of interest nearby."
Brooke Baum, co-founder of TrailingAway, concurs. "When camping for an extended period, an RV can feel even smaller than it already is if you spend all day inside," she says. "Be sure to plan outings you look forward to once a day, or at least a few times a week."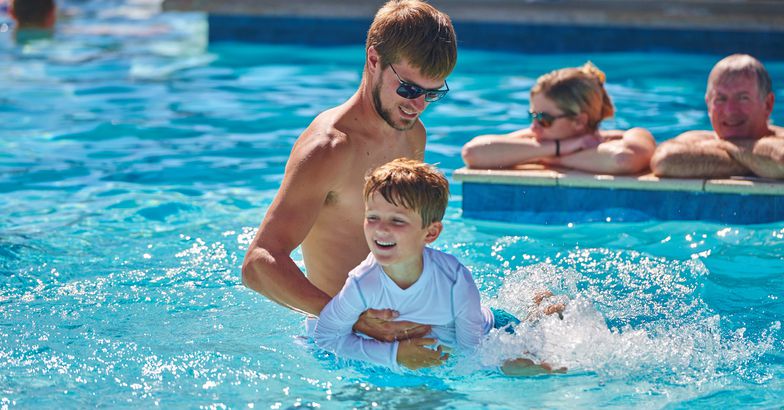 Choose Destination Campgrounds
A quick look at online reviews reveals that not all RV campgrounds are created equal. It might be worth shifting money from other parts of your budget to spend a bit more on accommodations that feel more like resorts than RV camps. 
"One of the best ways to keep yourself from going stir crazy while RVing for an extended period of time is to pick a campground with lots of great on-site amenities," says Dean Geracimos, chief operating officer at Blue Water Development, a leading developer of campgrounds on the East Coast. 
Geracimos touted three of his company's sites. Massey's Landing in Delaware, for example, features a resort-style pool with a swim-up bar. You'll find a giant waterslide at Salmon Falls KOA in Maine. Chincoteague Island KOA in Virginia will put you right next to a first-class water park.
Start With Shorter Runs
If you're a novice, you'll likely want to head out on the big road trip the second the RV is delivered or you drive it off the lot. In this case, however, patience is definitely a virtue. 
"Before embarking on a long trip, it's definitely worth going on a couple of practice drives and getting accustomed to the smaller space where you and your passengers will coexist for the duration of your trip," says Luca Sumberac, category manager at RV parts and accessories supplier CAMPERiD.com. 
"Since you'll have a good chunk of free time, you should plan activities and provide your own entertainment, e.g.: favorite board and card games, road trip playlists, and devices for streaming movies and TV shows.
Related: Best Short-Haul RV Vacations
Tarp Up
You'll be more likely to stay indoors if hanging out in comfort outside requires you to drag out a bunch of equipment and set everything up. The humble tarp, however, can provide some no-fuss comfort on the fly if you pass a patch of land that looks like a cozy place for an intermission. 
"Another helpful tip is to bring along at least one tarp with you," Sumberac says. "Tarps are great to attach to trees, providing a shady place to sit outside when you need a change of scenery."
Make the Destination an Actual Destination
Outings and adventure along the way can make your actual destination feel like the finish line. In fact, those planned and spontaneous outings on the road were just the warmup. The destination should just be the beginning of the real excitement. 
"Once you reach your final destination, be sure to get out and explore often," says RVshare's Megan Buemi. "Go into town and check out some of the popular restaurants or shops. Look into the best hiking trails nearby, or seek out any shows. There are likely all kinds of things to do, no matter where your destination."
To Each His (or Her) Own
RVing can most certainly be a bonding experience. That doesn't mean, however, that a little "you time" isn't healthy. 
"One of the things RVers talk about is being confined to a small space together for extended periods after living in a larger house with separation," says Bob Hamilton, founder of RV Dream New Radio. "One of the common pieces of advice to a couple is that you don't have to do everything together and should make sure each other knows that. He may want to hike, while she goes swimming. He might play golf while she goes shopping. It's important not to let the 'togetherness' of an RV burn you out." 
That goes for kids, too. "It's one of the most wonderful experiences for families to cook together around a fire, explore together, etc.," Hamilton says. "But, there needs to be times when kids and adults do their own thing as well, especially on a long trip."
There's a Time to Unplug — an RV Trip Isn't One of Them
RVing and camping are sometimes thought of as interchangeable concepts. They are not. Camping, particularly back-country camping, is a back-to-nature experience that requires you to unchain yourself from your devices in order to get the full experience. You should not make the mistake of applying this philosophy to RV trips.
"RVing is not camping," Hamilton says. "So, for the most part, you'll find RVers are the opposite of 'unplugging.' Even if they are deep in the woods they want Wi-Fi or 4G. They want to know what is around them and use technology to enhance their RV experience."
If RVers tend to be among the more tech-savvy groups, it's as much out of necessity as it is a tactic of boredom reduction. "They are charged with knowing how to read gauges in their tanks, use back-up cameras, read GPS coordinates to get to places they've never been and much more," Hamilton says. "So, you bet RVing is a trip with a cell phone, laptops and more tablets than you'll usually see in one place."
Stock Up on Downloads While You Still Have Wi-Fi
No matter how good your provider and your service are, don't bank on data streaming or downloads working on the road. Pack your devices with all your favorite media with your reliable home Wi-Fi before you head out.
"When we get stuck inside the camper, we often spend most of our time reading from our iPads," says Grant Sinclair, who along with his wife, Bonnie, runs the blog Our Wander-Filled Life, which documents their time on the road with their travel trailer. "Make sure you have lots of extra books downloaded to your device before you get somewhere with little cell phone service or Wi-Fi for playing games. We have a couple of games downloaded on our iPads to make the most of our downtime."
Sinclair recommends Ticket to Ride, a game that is one of his family's favorites.
Switch Drivers Frequently
Piloting an RV and driving a car are two very different experiences, and you should swap out the captain's chair in an RV much more frequently than you would in a normal ride.
Baum of TrailingAway swears by "taking breaks to stretch at least every two hours, alternating who drives, and having plenty of snacks on hand to curb the hunger."
Grant Sinclair follows a similar schedule. "In terms of driving, we switch out every two to three hours to allow the other person time to relax," he says. "We find that keeps the driver fresh."
Invest in a Quality Music Platform
Baum and her husband, Buddy, are full-time travelers who spent a full year exploring the U.S. and Canada in a 25-foot motorhome. The couple makes sure that they're in control of their audio options.
"Having satellite radio or a music-streaming service is a great way to keep from getting irritable on a long drive," Baum says. "Scanning for good songs every hour or so gets old fast."
Sinclair uses SiriusXM. "We like that because there is a live DJ, but we never have to change the channel or worry about burning up all of our data streaming music," says Sinclair, who ranks Radio Margaritaville among his favorite stations.
Think Outside the Audio Box
Music can do wonders in terms of brightening the mood and atmosphere. You might at some point, however, crave something more intellectually stimulating.
"Download some good podcasts before you go," Beasley says. "Music is fine, but it doesn't keep your mind as occupied, and the drowsy monster is more likely to hit if you're just listening to music."
Audiobooks are a good music alternative, as well.
Don't Overpack Your Itinerary
Experienced RVers know to minimize boredom and maximize adventure by planning trips and stops along the way. They also, however, know that sometimes it's better to just chill out and enjoy the ride.
"We typically don't get stir crazy," Sinclair says. "Honestly, we have the exact opposite problem. We are often packing in so much to a stop we don't have the time to sit back and smell the roses."
Hamilton agrees. "Part of the fun of an RV trip is getting there," he says. "Usually, you're not hurrying to an appointment, so RVers have a tendency to stop a lot at attractions and beautiful views along the way. There's an RV saying: 'It's the journey, not just the destination.'"
If None of this Applies to You, You're Probably the Real Deal
As you ease your way into the lifestyle, combating boredom will likely be a major sticking point. As you evolve into a true RVer, however, the lifestyle itself will eliminate the slog of idle downtime.
"Far from being bored, on a Madison Avenue psychographic scale, RVers are extreme actives and some of the most 'interested' people you'll come upon," Hamilton says. "RVers go out to eat at the best restaurants in the area, will spend hours at local museums and attractions, and often are in an area because of an event. They like music festivals, sporting events of all kinds and local celebrations. For most, the RV is just a place to sleep and maybe have a cup of coffee or breakfast. RVers are outside and exploring. There is no stir crazy."
Recommended For You
Get GrooveFunnels For Life While It Is Still In Beta For Free.