Tasty and Trendy
Whole Foods Market isn't exactly known as a cheap place to fill your shopping cart (though we've found some surprisingly inexpensive buys in the past). But what's beyond debate: It's always at the forefront of our changing grocery habits, catering to special diets and growing demands for food that is grown in ways that doesn't hurt the environment. If you haven't peeked in lately, here's a primer on what's hot right now.
Prices and availability were researched in early February and are subject to change.
Chocolate Ganache Hearts
Price: $12 a pound
If you don't feel like baking for your Valentine, these tantalizing sweets from Whole Foods' bakery will more than make up for it. Choose from Raspberry White Chocolate, Sea Salt Caramel, or Double Chocolate.
Beyond Meat Plant-Based Burger Patties
Price: $6
Plant-based meat substitutes show no signs of slowing down in 2020, and these juicy soy- and gluten-free patties made with pea protein may just be the ones that help you turn your back on beef once and for all.
Related: 10 Cheap, Healthy Alternatives to Red and Processed Meat
Bonterra Sauvignon Blanc
Price: $20
Ever heard of "regenerative agriculture"? In a nutshell, it's when farmers use methods that foster long-term environmental benefits, and it's one of Whole Foods' trends to look for in 2020. Bonterra falls into this category, practicing organic and self-sustaining farming at its vineyards.
Siete Grain-Free Tortilla Chips
Price: $4
Another hot food trend in 2020, according to Whole Foods: Products made with alternative types of flour. Siete's line of grain-free tortilla chips is made with cassava flour. They come in several varieties, including lime, ranch, nacho, and spicy fuego.
Related: The 20 Least Unhealthy Junk Foods
Evol Chicken Apple Sausage Breakfast Sandwich
Price: $3
February is National Hot Breakfast Month, but that doesn't mean you have to spend your morning slaving over the griddle. Whole Foods has plenty of grab-and-go options for busy mornings, including this Evol sandwich packing in 16 grams of protein but just 200 calories.
Ocean's Halo No Soy Sauce
Price: $4.49
Ubiquitous though it may be, soy sauce has two big strikes against it: Plenty of people are allergic to soy, and it's packed with sodium, making it a no-go for folks on a low-salt diet. Ocean's Halo subs in ingredients including organic kelp and mushrooms in place of wheat and soybeans. The resulting "no soy" sauce is also gluten-free.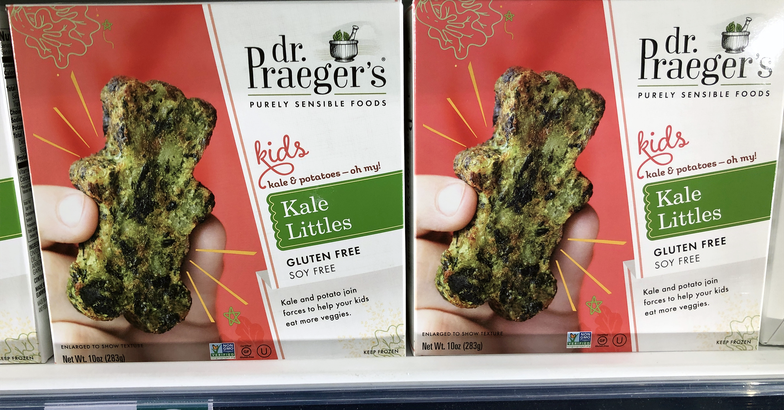 Dr. Praeger's Kids Kale Littles
Price: $4.69
Whole Foods predicts an increasingly sophisticated batch of kids' foods for the new year. If you're one of the lucky souls with children who will touch food with any kind of green in it (don't brag), these mashups of kale and potatoes are convenient and finger-food friendly.
P.S. Plant-Powered Cookie Dough
Price: $2.69
"Raw" cookie dough made from safe-to-eat ingredients has been popping up everywhere, so it was only a matter of time before it made it to the Whole Foods snack case. Choose from chickpea-based chocolate chip, peanut butter, or fudge brownie flavors.
Nana's Chicken Noodle Soup
Price: $8
The name hints that this simple soup keeps things traditional, and we can't think of a better comfort food for helping us wait out the remainder of winter. You'll find it in the refrigerated section. Bonus: Prime members can buy two, get one free on Wednesdays through March 24.
Tolerant Organic Red Lentil Penne
Price: $4
Whether you're gluten-free or simply focusing on a low-carb, high-protein diet, Whole Foods has plenty of pastas made from anything but wheat. Among them is this lentil-based penne and rotini with 25 grams of protein and 11 grams of fiber per serving.
Chef-Made Crab Cakes
Price: $8 to $11 each
Whether you're searching for an easy-but-tasty Valentine's entree or dinner for a busy weeknight when cooking is a no-go, Whole Foods' crab cakes may be the answer. Choose from lemon herb, black truffle, cajun, or the pricier jumbo lump variety, all available at the seafood counter.
Mitica Chococherries
Price: $10
Chocolate-covered strawberries are delicious, sure, but if you want something a little more unexpected, try this indulgent box of hand-dipped, dark chocolate-covered candied cherries, imported from Spain.
Birch Benders Keto Pancake and Waffle Mix
Price: $8
Love it or hate it, keto shows no sign of slowing down in 2020, and Whole Foods is all too happy to oblige everyone's favorite diet trend. Even pancakes get the high-protein, low-carb treatment with this just-add-water mix.
Related: 18 Best Chain Restaurants for Keto and Other Low-Carb Diets
Swapples
Price: $7
Gluten-free breakfast lovers, rejoice: Swapples swap out that pesky wheat for yuca root, and the result is a certified gluten-free, vegan, and paleo waffle-style way to start your morning. Choose from cinnamon, blueberry, or an "everything" flavor with garlic, onion, and poppyseeds.
Just Date Syrup
Price: $8
Maple syrup will always have a place in our hearts, but try trading the northwoods for one of the signature flavors of the Middle East this year. Date syrup has more potassium, magnesium, calcium, and antioxidants than its maple cousin, too, according to Bon Appetit.
Annie's Organic Valentine's Berry Patch Bunny Fruit Snacks
Price: $8
Need a healthier treat for the Valentine's party at school? These organic fruit snacks contain no artificial flavors, artificial colors, or high-fructose corn syrup, and they come in bags that are ready for kids to write on.
Related: 18 Lunch-Box Staples That Are Surprisingly Bad for Your Kids
Organic Opal Apples
Price: $3 a pound
During a time of year so much fruit is out of season, apples are nearly always a go. Whole Foods always carries a few lesser-known varieties, including these cheerful yellow Opal apples. A cross between Golden Delicious and Topaz, they're hefty and juicy, and don't brown after you cut them.
Whole Cheese Pizza
Price: $14
It might be Whole Foods, but that doesn't mean you need to eat mindfully all the time. Fill that pizza-shaped hole in your soul by stopping by the store's pizza ovens. Even better: Prime members can get a whole cheese pie for just $8, down from $14, every Thursday through March 24.
Related: From Plain Cheese to Peking Duck: 25 Yummy Pizza Recipes
Hoplark HopTea
Price: $3
Heard of the "sober curious" movement? It's growing, and shoppers are thirstier than ever for nonalcoholic drinks that aren't boring. One fine example: Hoplark HopTea, which makes a play for beer lovers with its craft-brew-style tea.
Related: Taste Test: 15 Non-Alcoholic Beers
Cara Cara Oranges
Price: $1 each
We can always count on citrus for a punch of flavor and color during the long, gray days of winter. Take things up another notch with pink-fleshed Cara Cara oranges, which are even sweeter than their regular navel-orange counterparts.
Organic Butternut Squash
Price: $2 a pound
Gourd season didn't end with fall, and there are plenty of types of squash at Whole Foods to hold you over through the winter. One of the better known varieties, butternut squash, is suitable for savory or sweet dishes. Roast it and toss it into a pasta dish or casserole, or better yet, try it in a daring and dairy-free chocolate mousse.
H2Ops Sparkling Hop Water
Price: $8.49
The craft-brew trend has even made it to water — yes, water. Whether you're trying to cut back on beer or just can't get enough hops, this light, zero-calorie, unsweetened brew could be worth a try.
Recommended For You